A Pet For Lady Nina Birch
Posted on 30th September 2017 by Lady Nina Birch
Mistress is looking for new special 'pets' Whether you're a Sissy, Slut, Maid or Slave, I'll teach you some tricks and punish you when displeased. Your leash is waiting...
Lady Nina x
An Interview With Lady Nina Birch Pt3
Posted on 5th September 2017 by Lady Nina Birch
An Interview With Lady Nina Birch Pt3 cont.

What are the qualities that you look for in a submissive before you would consider taking him on as a slave?
Respectful behaviour especially at first contact. Clear communication, perfect time keeping, interests that reflect mine, no totally fixed 'shopping list' of interests, excellent personal hygiene and good care of his appearance.

Your web site is clear what services you are interested in and will discuss, so why do you think some subs will call you and ask for something 'not on the menu'?
Perhaps their kick is to experience their thing from as many different dominant women as possible? Maybe they have a certain small area that they have the opportunity to visit a Mistress in, so I guess it doesn't hurt to ask.

You have appeared in many films, is your approach to the sub any different when filming than when you are in a typical session?
If it's a slave I'm familiar with it's usually a catchup then action lol. A slave I haven't met before I take them to one side to have a chat about their interests experiences and any medical conditions or injuries. I like the slave to feel comfortable to a certain extent, then I get the best from him and he works hard to serve me.

You enjoy role-playing, is there a hidden desire to develop your acting skills?
Yes! I've looked into amateur dramatics and have in the past joined agencies hoping to become an extra. I've been offered a few things but I'm so busy that so far it has never seemed to work out. I have been approached to consult on various plays, films and television series, some more well known than others.

What are your views on male chastity and how effective it is as a means of controlling the male submissive – especially in a long-term relationship?
I love chastity! The idea of controlling a mans cock even when you're out of the country is just fabulous. It must be well fitting and even a slight erection must be uncomfortable. The plastic ones are perfect for long term wear as the submissive can still shower and live a normal life, as long as he doesn't get horny! hahaha. Of course this becomes more difficult the longer he's kept locked up.

Do you have a favourite implement when carrying out discipline and if so why?
I love all my CP implements but prefer certain ones from time to time. I love to carry out a full body whipping and I most certainly enjoy caning from a short sharp cold caning to a lengthy punishment using different canes. I enjoy stripes and welts but it's my personal preference not to break the skin and draw blood. I also like to cane my initials onto a cold bottom. Of course this does make a rather square looking B lol. I also have my little 'signature' caning. I place one very hard stroke just at the crease where the top of the thigh meets the bottom. This ensures that for sometime afterwards every time they sit down they feel it. Of course I never announce when this stroke is coming and I always get an extra loud surprised yelp! Lol.

I hope that you've enjoyed a little insight into my world
Lady Nina x
Questions by Maid Jasmine
Worship My Legs Slave
Posted on 14th April 2017 by Lady Nina Birch

Lady Nina x
Kinky Boudoir
Posted on 12th February 2017 by Lady Nina Birch
Sissies Know Your Place
Posted on 14th December 2016 by Lady Nina Birch
Fan Art much appreciated :)
Lady Nina x
An Interview With Lady Nina Birch Pt2
Posted on 1st July 2016 by Lady Nina Birch
Lady Nina Birch The Interview Part 2

Is there any type of male that makes a better sissy than other?

Someone of a good nature who is in touch with women, who understands femininity and usually already has a fetish for satin and lace. I never 'name' a feminised male until he's fully dressed and standing in front of me, then the perfect name just comes to me.

How do you decide which outfit to dress a sissy or slut in?

I always establish whether they consider themselves to be a slut, sissy or maid? Then I generally look at their body shape, colouring and the way they move. If they have a thick waist I may corset them to get the best feminine look. I try different wigs to suit their colouring and of course the makeup would be much heavier for a slut. Sometimes I start with a partial crossdress, stockings, suspender belt and panties, and perhaps heels. This enables me better access to carry out corporal punishment and nipple play.

Do you actively encourage the males who seek feminisation to develop that side of their nature outside of the session?

If a long term mistress/slave relationship is established then of course my feminisation programme comes into play. This could include guidance into lazer hair removal sessions, chastity, male underwear confiscated and replaced with panties. I have a whole host of feminisation home training procedures that I enforce.

I have at this time 4 long term slaves at different stages of anal training. I order them to buy anal plugs of various sizes and to wear them at specific times. This ensures they're good and ready for pegging when they finally see me.

What is the best thing about being a pro Domme?

The extensive variety of people I've played with, the playrooms I've played in and the situations and role-plays I've experienced. Also the contented look on someones face as they leave me. They've taken their punishments for me, indulged in their fetishes and can now go back to their every day responsibilies, sated until next time...

How do you prepare for a session, do you have any set rituals that you follow?

When I wake up I like to lay quietly and think about the day ahead. I consider possible scenarios, costumes and visulize my equipment in my head and the different ways I could use it. I think about the journey I am experiencing with certain individuals. I think about the direction it's going and the ways I can expand upon it. I also think about the things they have shared with me about their lives and will remember to make time to discuss these at the end of our play and advise if I can or it feels appropriate. Before a session I like to dress early and listen to music to really get myself in the mood.

How easy is it when you are presented with a new slave who cannot articulate what he wants? Presumably you ask questions to illicit a response, but at what point do you just have to go for it and rely on intuition?

Generally even an extremely nervous new submissive can at least get a few words out. I would have had a good degree of communication before the actual face to face meeting, so would have an idea of interests. I give the easier option to either email me or write something down and hand it to me on arrival. There's also the give away of what I like to call the 'Cockommeter' I do something to them it stands up...it's working! It goes down it's not lol. Some Mistresses prefer the slave not to be aroused in their presence. I personally prefer their cock to be hard and find it offensive if they don't have a big erection (unless there's a medical condition)and it's even better if it's straining in a tight chastity device hahaha.

Lady Nina x
Interview questions by Maid Jasmine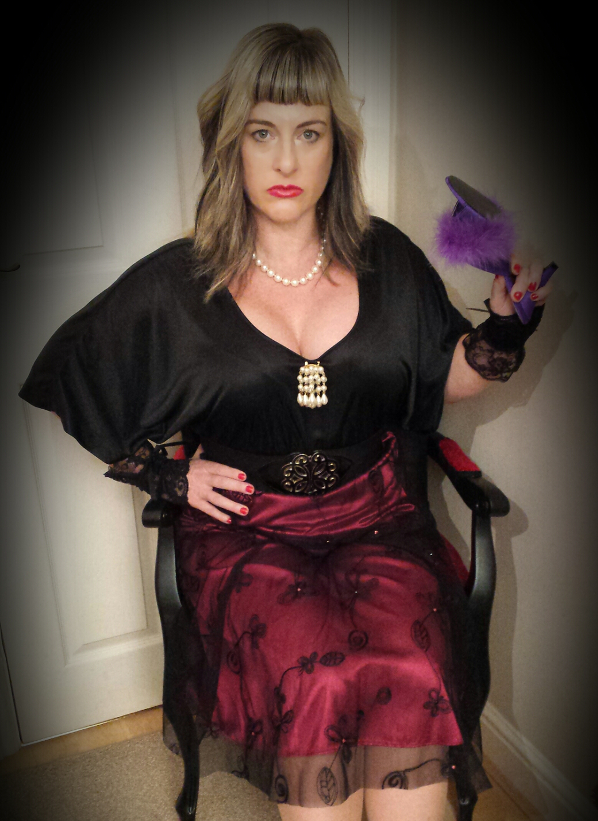 An Interview With Lady Nina Birch Pt1
Posted on 10th May 2016 by Lady Nina Birch
Lady Nina Birch The Interview Part 1

A little insight in to my personal thoughts and feelings...hope you enjoy!

When did you first realise that you wanted to become a professional Dominatrix?

I didn't plan to become a Pro Dom and I had never heard of BDSM, but I've always had kinky fantasies from a young age. When I saw soft images of spanking, bondage in movies I had butterflies in my stomach. I became totally fascinated but I didn't know why. When I was introduced to the fetish scene I knew I belonged. I had been playing at fetish clubs and had various male and female slaves long before I embarked on my first professional session.

When you started out on your journey to become a Dominatrix did you have any particular mistresses that you admired and learned from?

I've been lucky enough to be invited to join in on play with many gorgeous dominant ladies over the years and they all have their own skills and ways of handling a submissive. Of course I have the very deepest admiration for my dearest friend Mistress Sidonia of The English Mansion, playing with her and her stable of slaves was very exciting. Mistress Sidonias technical abilities are truly outstanding and the images she created and that I witnessed in the wall length mirrors of her private playroom stay with me to this day. Any slave who had the opportunity to session with her must still be fantasizing about it.

You must have received many 'requests' during your time as a Dom, can you share the strangest; how you felt about it and finally, did you do it?

I remember a very sweet gentleman who liked me to wear black, shiny wellington boots, he would sit on the floor and worship them. I enjoyed playing with him. I totally understood his fascination with the smooth material and the noise they made as he stroked them. another gentleman used to bring lots of plastic bottles and cans for me to crush under my heels whilst he sat and watched...that was fun!

What, in your opinion, is the most important quality that a professional Dominatrix must possess and why?

No one quality could sum it up, but you must be trustworthy, someone sharing their deepest fantasies with me is a responsibility I have never taken lightly. Also empathic, open-minded, at least slightly sadistic and be highly confident. And of course be genuinely interested in BDSM and everything connected with it. You must also have a sense of responsibility to how far the action goes. A submissive can really get into the punishments he's taking and when adrenaline kicks in they feel like they can take anything. This is the point where the Dom needs to make the decision as to just how much further to go. I have never permanently damaged a sub and I never intend to do so.

You specialise in feminisation scenarios, what is it that you find so appealing about these types of activities?

The journey! Bringing out the deep feminine side of a male is truly satisfying. Of course for someone to seek me out the seed is already planted. Then it just falls for me to drag out and create the masterpiece of their inner slut, sissy or maid and see how far I can take them. It never ceases to surprise me just how sexy a man can look in stockings and heels...some guys legs are just gorgeous.




Interview questions by Maid Jasmine

Lady Nina Birch x
Bend over!
Posted on 14th March 2016 by Lady Nina Birch
Lady Nina Birch
Role-play, humiliation & control and all levels of corporal punishment. I'm a strong left hander and possess a huge collection of implements from soft to severe. Have you been naughty?
Lady Nina Birch, My Kinky Alphabet
Posted on 4th February 2016 by Lady Nina Birch
Lady Nina's Kinky BDSM Alphabet
A is for Anal, your arse is now mine
B is for Bondage, I may release you in time
C is for Chastity, firmly under lock & key
D is for Dildo, inserted as you're over my knee
E is for Electrics, they will guarantee you submit
F is for Foot Worship, only if I permit
G is for Gagged, keep you quiet as a mouse
H is for Heels, trained to walk correctly in my house
I is for Interrogate, Mistress controlling your fate
J is for Jacket, of course I mean 'Strait'
K is for Kicked, as you're tied on my floor
L is for Leather, it's the smell you adore
M is for Maid frills, apron and cinched
N is for Nipples, weighted, clamped and pinched
O is for Oral, as I make you suck cock
P is for Petticoats, under which there's a lock
Q is for Queening, smothered under my bum
R is for Role-Play, will I let you cum?
S is for Strap-on, my sissy slut to fuck
T is for Tie & Tease, you're all out of luck
U is for Under My Heels, which you suck at my leisure
V is for Verbal, I humiliate you with great pleasure
W is for Whipping, as I pick up the pace
X marks the spot, that my cane tip will grace
Y is for Yielding slave, at my feet you will lay
Zzz is for Mistress sleeping, another satisfying day
Lady Nina xx
A Merry Frilly Christmas From Lady Nina Birch
Posted on 25th December 2015 by Lady Nina Birch