My New Film Releases at The English Mansion
As you can see I've been very busy keeping all my sluts, sissies, maids and slaves in line xx
Click On An Image To See Me In Action At The English Mansion
Always a pleasure to smother pretty Felicity under my many petticoats. I love to hear her whimpering and sighing as I tease her 'clitty' mercilessly. I rub her 'pussy' through her silky knickers before exposing it in the beautiful Mansion gardens for anyone to see...
I love to share my secrets with younger Doms. In the sunshine at the Mansion Florida holiday home is just the perfect setting for some femdom action...
Maid Sharon gets put through her paces in the boudoir. She looks so pretty tied tightly and even better with her mouth wrapped around my cock...
Two frilly girlies to tie, tease and gag. A fun filled kinky afternoon of touching up and torment...
And what can be said about these two...filth! Two outragous slutty T-girls who will do ANYTHING I say. A delicious dirty way to amuse myself...
I just love to control my own personal sex show, so when the opportunity with these two gorgeous 'puppets' came about my imagination ran riot...
Help with the husband? Always happy to oblige. With the added humiliation of lace and discipline we'll have under supreme control in no time...
Arse stretching in the sun at the Mansion Florida boathouse, with our giant strap-ons, what could be better...
my perfect afternoon; A sexy young slave girl, a sex starved slave boy and a fabulous dungeon to torment and play in...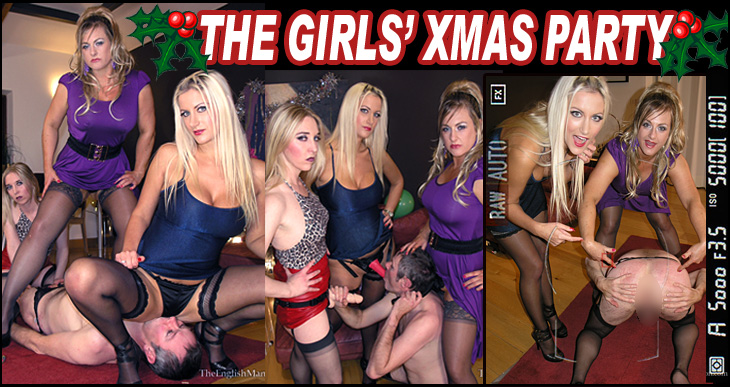 All year round you've been the total, sexist, office dickhead. See what happens when the girls gang up and get revenge...
Keeping a husband in line is a saisfying full time job. Always great to get your friends involved they can have so many tips and cruel ideas to keep them under your thumb...
Click On The Images To Take A Look At Me In Action
I'm enjoying playing with my feminised slut. I've dressed and masked her like a Japanese manga character. I put her in bondage on the bench and proceed to open her tight arsehole with fingers and dildos, before settling on a vibrating butt plug. Her big cock is then exposed and teased until she is begging to cum and can't help spunking.
In this vintage type movie I place my beautiful t-girl in various extreme bondage positions for my amusement. I enjoy watching her wriggle and strain against her bonds.When at her most vulnerable she is then cropped to atone for misdemeanours before thanking me correctly by licking and kissing my shoes.
Click On Images Below To See Me In Action
Lady Nina's maid has not been as exemplary in service as hoped, so she is bent over the dinner table and punished by all three Mistresses. Her arse is then intruded with a big vibrator as Liza looks into her eyes, shaming the maid. Mistress Sidonia then puts her in bondage and the 3 beautiful ladies tease her big clittly until she can hold off no more.
WANT TO SEE ME IN ACTION? Click on Image Below
Movie Now Showing At The English Mansion
Lady Nina is spending today playing with her beautiful young special girl, Jess. After inspecting her pretty dress, Nina is disappointed in the finishing touches, so scolds her and delivers a long OTK spanking. She then uses some anal toys to stretch out Jess and prepare her life as a girl. Straining in a tight CB6000 chastity device she is teased and toyed with mercilessly, before being left in bondage.
More Movies At The English Mansion
Three Strict Women....Your Arse Is Grass!
Eve and Nina have been invited to their school reunion and decide to invite Zakk, the former school bully, over to give them a lift. They have been scheming though, the only reason they want his company is to extract a long overdue revenge as they had been his victims, he had even got them both caned. Zakk turns up, as obnoxious as ever as soon lives to regret his past bad behaviour.
Movie Now Released at The English Mansion
Click on the image to see me in action at The English Mansion the largest classic femdom website in the world
Resplendent in my Jodhpurs and riding jacket, I am finalising my favourite pony girl's training, making sure she is is in top condition for the dressage show. I am determined she will not let me down. After completing the outfit with a beautiful butt plug tail, my pony is fully inspected before being taken through her paces in the paddock. Any poor performance is sharpened up with a good dose of the whip!
Have you been practicing your positions? My 'special' girls are put to the test!SIVE EW
Click on image to see me in action at The English Mansion
Click on a poster to see me in action
Mistresses Sidonia, Nina and Nikki are enjoying a pre-dinner drink in the dining room of the Mansion. They have one tranny slut under the glass table to rest their feet on and humiliate plus their newest maid trainee for trial. The maid soon shows her inexperience with bad manners and slovenly behaviour, much to the disgust of the mistresses. Of course this is totally unexceptable and is swiftly dealt with...
Movie's you can see me in at The English Mansion
Watch me in action in movies at The English Mansion
Enforced Feminsation, Enforced Bi & TV Dressing Movies
Domestic Husband & Wife & Office Femdom Scenarios